"At the end of the day, it's not about what you have or even what you've accomplished… It's about who you've lifted up, who you've made better. It's about what you've given back." – Denzel Washington.
A philanthropic act of volunteering needs no reason. It's a way through which you can touch other people's lives, untangle the difficult situations and make living easy for them, help them to believe in the goodness and add a smile on their face. No matter how small your step is, you'll definitely get to make a big impact on the lives of the underprivileged ones through volunteering.
No matter whether you choose to teach the kids at a slum school, shower love on the orphans and street kids, help the underprivileged women earn a livelihood or treat the patients at a government healthcare center – you contributions will be well appreciated. During this learning journey, you'll get to know that India still has a huge population living below poverty lines, where people don't even have access to the basic necessities of life – and a little help from your side can actually be a step towards change!
Volunteering India offers a wide range of programs, in association with local organizations, schools, childcare homes, and healthcare centers, that aim to bridge the gap between the volunteers and the people who are in dire need of a little help for a better life.
This infographic will help you to understand why you should volunteer in India.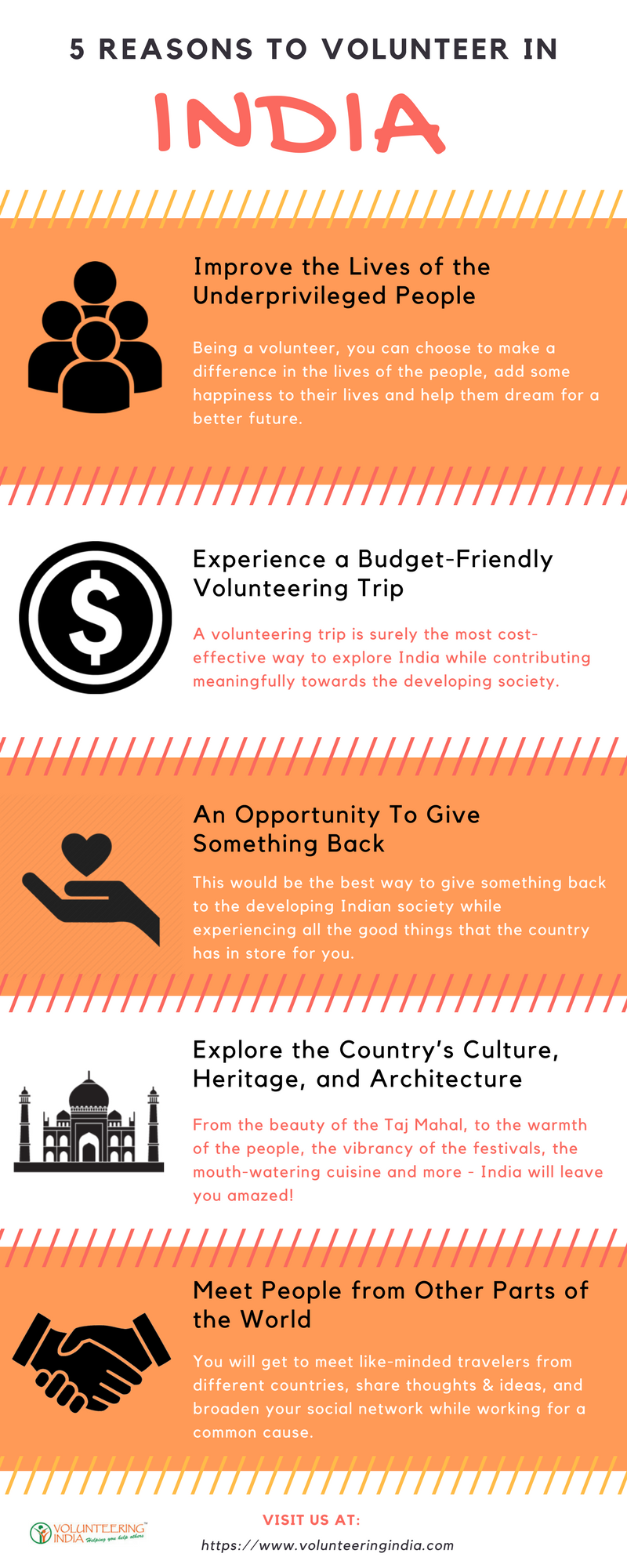 If these reasons seem to be convincing enough, and if you are eager to explore India and do something worthy for the people – then choose anyone from the best volunteering programs offered by Volunteering India and make a difference.
What Are The Benefits Of Volunteering In India?
To dig a little deeper into the matter, it's not just about helping the underprivileged ones,  but it'll also help you to learn a lot more about life! To say the least, volunteering acts as a double-sided coin, and our aim is to focus on the wellbeing of the receiver as well as the satisfaction of the giver.
1) Incredible opportunity to make a difference!
There can surely be nothing more satisfying than making a difference in the lives of the ones who need it the most. Being a volunteer in India, you can spend time working with street kids or with underprivileged women, helping them to live a better life and dream of a better future.
2) It'll help you to know more about India – the history, society, heritage, culture & more!
If you just visit India for a holiday, you might miss out a lot of things that you'd otherwise get to explore when you come for a volunteering trip and spend quality time here. You'd get to be in touch with the locals and know more about the regular lives of the people. Not only will you get to visit the popular heritage sites, but you'll also have a chance of exploring the nooks and corners as well as the hidden gems! Know more about the culture, savor the taste of local cuisine, learn a couple of words in Hindi and make your journey memorable.
3) It'll be the best way to change you as a person!
As mentioned earlier, volunteering isn't just about working for the community, but also about working on yourself – it's both an outward as well as an inward journey. While you'll be working towards a larger goal of making an impact on society, you'll simultaneously develop certain skills like cooperating while working as a team, patience & perseverance, leadership qualities, etc. You'll also become more humble & compassionate, learning the fact that not everyone is born with the same privileges. Thus, it'll eventually change you as a person.
4) Meet some incredible people from different parts of the world!
While in India, you'll get to meet and work with a bunch of like-minded people from different parts of the world! It'll be a joyride with them, as you'll be volunteering together for a common cause, bond with each other and travel during free time. You'll get to know more about their country and culture – eventually, widen your social network and create contacts for future opportunities.
5) Boost your career, adding some brownie points to your CV/Resume!
A volunteering experience abroad will always enhance your future career prospects. You'll be polishing your existing skills as well as gain new ones, during this endeavor. It has been seen that employers are more keen on hiring people with some sort of work experience, especially is that is international volunteer work!
For more information, you can drop us a mail at [email protected] and our Program Advisors will get back to you, soon!
This Post Has Been Viewed 1,223 Times