Volunteering Programs in India
India is one of the most popular destinations to take part in an international volunteer abroad program. India offers a lot to the traveller in terms of history, culture, variety of projects, food, hospitality and lovely people, this is the reason why thousands of participants choose to take part in a volunteer program in India every year.

Volunteering India is the oldest and the most established and trustworthy volunteer organisation in India. We have been providing volunteer and internship programs in India since 2004 to over 3500 volunteers from around the world. Our programs are located in New Delhi, Palampur / Dharamsala, Bangalore, Mysore and more. Volunteers can choose to join in one of the many different options we provide, childcare, women empowerment, teaching, summer programs, mini breaks, group programs and family volunteering in India.

Volunteering India is currently accepting applications for 2016 – 2017.
VOLUNTEER OPPORTUNITIES IN INDIA
VOLUNTEER TEACHING PROGRAM IN INDIA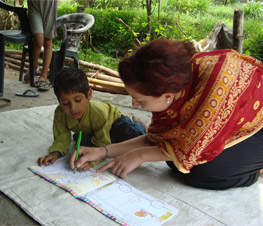 Volunteering India provides formal and informal teaching program options to its volunteers where volunteers can teach at childcare centers and at primary and secondary school depending on their comfort level. You don't have to be a professional teacher in order to join our teaching program placement.

Volunteers can take active part in class and teach English, Maths, Science, Geography, Computer and General Knowledge. Apart from teaching, volunteers can take teach them the importance of sports and conduct extra-curricular activities within school. Our program start dates are very flexible and volunteers can join our program from any Monday of the month all year round apart from school's summer and winter holidays. The minimum program duration is 1 week and maximum is 24 weeks. Volunteers are also welcome to bring educational material for the kids such as stationary, books etc.
Teaching Programs in India
Teaching Program Location in India
Women Empowerment Programs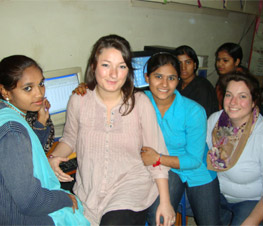 Volunteering India provides volunteering with Women from poor financial and educational background opportunities to its female volunteers so that they would have a better future. We have tie ups with various different NGO's in and around capital city Delhi who are working towards improving the status of these women so that they can go out and earn for themselves and their families.

Volunteers work directly with these women from Monday to Friday and provide them guidance on the importance nutritional and wholesome diet, teach them computer skills as well as Basic English language lessons. Volunteers work Monday to Friday 5 days a week for 5 – 6 hours a day and are free to explore capital city Delhi on weekends with other volunteers.
Women Empowerment Program in India
Women Empowerment Program Location
Disabled Care Programs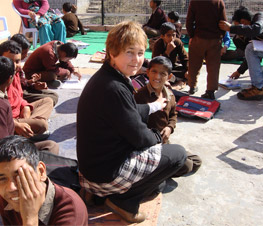 Under this program placement volunteer's main and sole role is take care of the mentally and physically disabled children. Volunteer's main work involves preparing meals, feeding these children, changing their dress, playing with them as that is the part of their training. Volunteers are also welcome to use special skills if they have any which would be beneficial for these kids.
Volunteers can also assist local staff at the placement in their day to day tasks. Working with these kids is a life changing experience. Volunteers joining this program need to have special affection for these children as well as loads of patience is required. Our program start dates are pretty flexible and volunteers are welcome to join our program from any Monday of the month and our programs are available all year round.
Disabled Care Programs in India
Disabled Care Program Locations
Volunteer Childcare Program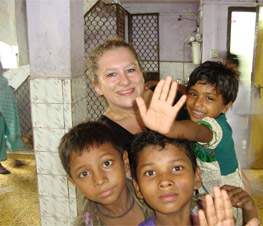 Volunteers childcare and orphanage program options are one of our most popular projects in India. It is undoubtedly one of the most challenging yet most rewarding volunteer program we offer. Volunteers main tasks involves spending much needed time with young children who have either lost their parents or living in the slums with no ray of hope from their future.Volunteers work with both infants - toddlers as well as with kids aged between 4 - 13 years and teach them, provide them love and care so that they won't feel left out of the place. Volunteers also assist these children in studies and with their homework, prepare meals for them, wash their clothes, play with them and spend as much as time with them. Our childcare program is available in capital city Delhi, Palampur – Dharamsala and in South India.
Volunteer Childcare Program in India
Volunteer Childcare Program Locations
Mini Break Program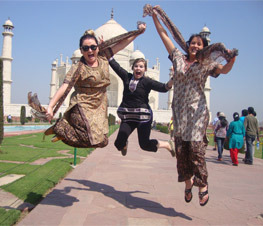 Our mini break volunteering program options are highly suitable for volunteers who can't commit for longer time duration yet they want to help the poor communities. Under these program options, our volunteers work during weekdays and travel during on weekends along with other volunteers. Weekend activities are the part of the program and volunteers doesn't have to pay anything extra for that.
Our mini break program is highly popular among volunteers as volunteers get to travel various famous touristic attraction in Delhi, Palampur – Dharamsala and in South India which takes the toll out of their body after hectic 5 working days. Volunteers are welcome to join our program from any 01st or 03rd Monday of the month and volunteers also have the option to join Language and Orientation week before starting their main program.
Mini Break Program in India
Mini Break Program Locations