While Volunteering in India, VI Volunteers can visit the world famous monument Taj Mahal by opting for the weekend day trip. The Taj Mahal is considered to be one of the finest examples of Mughal architecture and is also a UNESCO World Heritage Site.It is also listed among the New Seven Wonders of the World.
Taj Mahal is also known as the monument of love as it was built by Emperor Shahjehan in the memory of his beloved wife Mumtaz.

Cost per person - $100
To book this tour or to get more information please email - ia.traveldesk@volunteeringindcom
Itinerary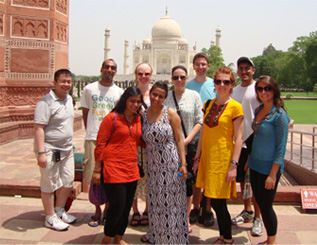 The trip starts early in the morning, volunteers travel in an air conditioned vehicle with our staff / coordinator and are driven all the way to Agra from Delhi. The drive is about 3 hours long, depending on traffic. You would be provided Breakfast on the way.
On arrival at the destination, our experienced tour guide will accompany you and the coordinator to show you around Taj Mahal and give you a proper guided tour. This usually takes around 2 hours. Once the Taj Mahal tour is finished, volunteers would get an option to see the Agra Fort if they are interested.
After finishing all sightseeing we would drive back to Delhi, lunch would be provided enroute to Delhi.
Cost Includes
Travel from Delhi to Agra and back by private Air Conditioned Vehicle along with the coordinator or another representative.
Meals - Breakfast & Lunch.
Tour of Taj Mahal and Agra Fort.
Cost Excludes
Monument Entry Fees for Taj Mahal.
Any Personal Expenses For Example- Snacks, Bottled Water etc.