Volunteering India Reviews and Testimonials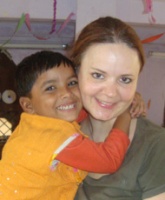 Karin Kapler
(Germany)
Pre Departure information were absolutely satisfactory and all my emails and questions were answered quickly. I enjoyed my program placement. The kids were absolutely wonderful and staff at the project center was great. I really appreciated to work together with them. I liked my accommodation and meals were delicious too. The highlight of my trip was 1) Work with Street Kids. 2) Akshardham Temple with musical fountain. 3) Iskcon Temple. It was a great experience which I hopefully can repeat any time.
Mini Break Program - Delhi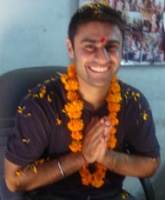 Harjeevan Randhawa
(United Kingdom)
The booklet was fantastic. It gives me all the information I needed and more. I absolutely loved the program placement I was on. The staff, the children were absolutely amazing and it is something I will cherish for the rest of my life. Meals were always amazing and truly enjoyable. The accommodation was excellent with great facilities. The highlight for me was the children and their thirst for knowledge and warmness. They treated me with respect and love and will never forget them. I will surely recommend this program to anyone who is looking for a life time experience.
Volunteer Street Children Program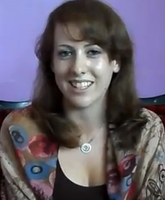 Noelia Silva Clarkson
(Spain)
I found the pre departure booklet very informative with useful information. The response to my question was fairly quick so I was quite satisfied. I liked my program placement quite a lot. First I worked at day care center and then I worked as a teacher in a school and I enjoyed both the placements. I worked with one other volunteer and we do have nice time together. Accommodation is good and the meals were very nice bit spicy but tasty. My highlight would be going to play with the street kids from the tea garden plantations. As well as the amazing views of the mountains as a back drop. I had a really great time that afternoon with the kids.
Mini Break Program - Palampur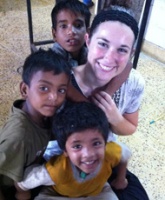 Sarah Dufour
(USA)
I found the packet very helpful. It prepared me for my stay here. I really enjoyed my placement. Being with the children was wonderful. The experience made a huge impact on my life and I hope I made an impact on them as well. Everything was very nice. I very much enjoyed the meals. They were delicious. The rooms were very comfortable. The highlight for me was working with the children. They were the reasons I came and I will never forget them. I enjoyed sightseeing as well. Experiencing a new culture was so amazing and I learned a lot. I think my friends would enjoy it so I will recommend this to them.
Volunteer Street Children Program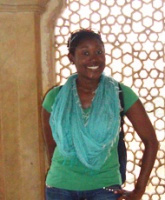 Le-Marie Thompson
(USA)
The pre-departure booklet was very helpful and out lined everything I needed to know. The staff was very helpful in answering questions and helping me prepare. My placement with street children kids was wonderful experience. I enjoyed my placement and will miss the daily interaction with the kids and the staff. The accommodation and meals also met my expectation. The highlight of my trip was when I gave a final test and students had retailed what I taught. Also I loved travelling to Taj Mahal with other volunteers. I would recommend this program to other volunteers interested in working with kids. Volunteering India made my experience here very nice.
Volunteer Summer Program