Mini Break Program Delhi 2017
Volunteering India offers an exciting opportunity to do a 2 week volunteer trip along with weekend excursions for the volunteers with a combination of volunteer programs and tour to one of the most historic and cultural sites in the capital city of Delhi. This program is especially suitable for volunteers who do not have time to commit to a month or more of volunteering abroad but would like to make some contribution and also travel along with other volunteers on the weekends to one of the most spectacular places in northern India.
Typical volunteer activities include:
The program is based in the capital city of Delhi. The city is a fusion of ancient and modern culture and is home to ancient monuments, magnificent museums and
offers plenty of shopping opportunities for travelers
. Although the city is witnessing fast progress and change there are many people who live in low income areas and slums without access to even basic amenities such as clean water. There are also millions of street kids in the city who are either orphans or have run away from their home in the villages to make a better living for themselves.
These kids often fall prey to drug peddlers and child traffickers. They are rescued by different NGOs working towards the cause of these kids and are provided shelter and refuge in shelter homes where they are given informal education and counseling.
Volunteers in this program work in the street kids shelter homes in Delhi. Volunteers can bring smile on the faces of these disadvantaged street children by helping to create an environment conducive for their holistic development in order to enable them become a part of mainstream society.
Volunteer work with street children
consists of taking informal education classes with the children, playing games with the children and introducing them to different new activities.
Volunteers work at the various contact points or shelter homes, being run by various organizations, which serve as day care centers for these street children. They can assist in providing love, care, basic literacy, recreation and most importantly spend time and shower affection on them.

1. Ensuring attendance by the children of the area to these centers.
2. Help, prepare and, serve nutritious meals for the children every day with the help of a local worker.
3. Create a fun, colorful, "Play Way" environment for the children through games, stories and other creative activities.
4. Decorating and painting the day care center with charts, colors , papers to make it look attractive and inviting for more children to join these centers.
Sunday (Day before Program start date) – Arrive at Indira Gandhi International Airport in Delhi.
Day 1 - Orientation Session - Welcome to India, introduction to the program in Delhi, safety issues and basic culture of India. Also learn about your program schedule and tour program to follow.
Day 2 -
Volunteer starts the work in field. Daily schedule will be as follows:-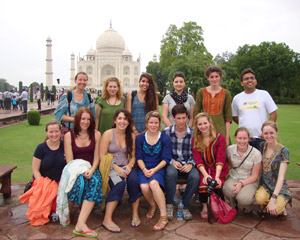 Breakfast: - 08:30am
Departure to work area: 9:30am
Return from Work area – 4:30- 5pm
Internet / Free time – 5-7pm
Dinner: - 6:30pm
Volunteers work from Monday to Friday and Weekend excursions are included. The below mentioned weekend trips would be given to volunteers under this program.
Excursions and Trips
A) Trip to Taj Mahal –
On one of the weekends, volunteers will be going to Agra to visit the world famous Taj Mahal which is also among the Seven Wonders of the World.The Taj Mahal is considered to be one of the finest examples of ancient Mughal architecture. It is one of the most popular tourist sites in India and is also visited by almost all the volunteers who join our programs in Delhi.
B) Delhi Sightseeing Trip – Volunteers will discover Delhi and go on a tour to one of the famous spots of cultural and historical significance.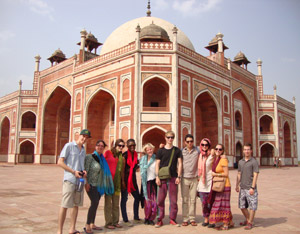 India Gate -
At the centre of New Delhi stands the 42 m high India Gate, an "Arc-de-Triomphe" like archway in the middle of a crossroad. Almost similar to its French counterpart, it commemorates the 70,000 Indian soldiers who lost their lives fighting for the British Army during the World War I. The memorial bears the names of more than 13,516 British and Indian soldiers killed in the Northwestern Frontier in the Afghan war of 1919.
Lotus Temple - South East of Delhi, this temple is built in the shape of a lotus flower and is the last of seven Major Bahai's temples built around the world. Completed in 1986 it is set among the lust landscaped gardens. The structure is made up of pure white marble The architect Furiburz Sabha chose the lotus as the symbol common to Hinduism, Buddhism, Jainism and Islam. Adherents of any faith are free to visit the temple and pray or meditate.

Humayun's Tomb - This magnificent garden tomb is the first substantial example of Mughal architecture in India. It was built in 1565 A.D.nine years after the death of Humayun, by his senior widow Bega Begam. Inside the walled enclosure the most notable feature are the garden squares (chaharbagh) with pathways water channels, centrally located well proportional mausoleum topped by double dome. It has been recognized as a UNESCO World Heritage Site.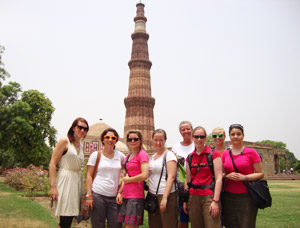 Qutub Minar - is a soaring, 73 m-high tower of victory, built in 1193 by Qutab-ud-din Aibak immediately after the defeat of Delhi's last Hindu kingdom. The tower has five distinct storeys, each marked by a projecting balcony and tapers from a 15 m diameter at the base to just 2.5 m at the top. The first three storeys are made of red sandstone; the fourth and fifth storeys are of marble and sandstone. At the foot of the tower is the Quwwat-ul-Islam Mosque, the first mosque to be built in India. A 7 m-high iron pillar stands in the courtyard of the mosque. It is said that if you can encircle it with your hands while standing with your back to it your wish will be fulfilled.
What does your Program Fee Cover?
Pre Departure information - A comprehensive booklet to prepare you for your trip before you come. You will get this booklet as soon as you pay your registration fee after completing your application form online. The booklet provides information regarding the country , projects , coordinators , Things to pack , Visas and Emergency Contact Information.

Airport Pickup - We will provide airport pickup in Delhi for volunteers arriving from 6 am to 10 pm. Volunteers arriving at other times can wait in the arrival lounge for us to pick them up in the morning. If you are travelling in India before we can also arrange to pick you up from your hotel, bus stand or train station in Delhi.

Orientation - A half day orientation will be provided by our staff. We cover areas like, culture, greetings, locations, transportation etc.Volunteers are encouraged to join the Orientation Week - Learn Language, History, Culture & Discover India! in Delhi which gives them an opportunity to explore different sights in Delhi and also learn some basic Hindi.

Accommodation - Volunteer accommodations are provided in the volunteers home. Volunteering India maintains two volunteer houses in posh South Delhi localities. Both the accommodations have wifi Internet, filtered water, fridge, microwave, running water and electricity along with Air Conditioning for summer months provided during the night.

Food - Volunteers are served with two meals a day in this project, breakfast and dinner. Typical vegetarian Indian meals may include Dal (Lentils), Curry, Rice, Vegetables, Salad, Yoghurt, Roti (Indian Bread). For volunteers that are staying the orphanage accommodation, you would get 2 to 3 meals per day.

In-country support - 24 hours support provided by our local staff. Volunteers have the support and assistance of the local coordinators and staff in case of any Emergency. All our staff and coordinators are available in mobile for any help which is required by volunteers.

Weekend Excursions - Volunteers would be provided 2 weekend excursions - Taj Mahal Trip and Delhi tour as mentioned above and transportation is provided for the same.
What your Program Fee does not cover?
Airfare
Visa Fee
Personal expenses such as toiletries etc
Local Transportation
Travel Medical Insurance
Monument Entry Fees
Other Programs in Delhi
banner or testimonials
Resources