If you are thinking of making the most of your next summer vacay – then Volunteering India would be glad to host you in New Delhi & Palampur, where you'd not only get to work with a bunch of underprivileged kids – adding hope and happiness to their lives – but also hop around some of the gorgeous cities of North India, soaking in the culture and rich heritage of the country.
Find out everything about our Summer Volunteering Program 2023 and since you have got a lot of time in hand, you can even start planning from now!
Volunteer & Make A Difference:
Of course, you wouldn't want to waste your summer break doing nothing, for sure! That's the primary reason why you've chosen to be a part of the Summer Volunteering Program in India. We shall ensure that you can contribute effectively towards the developing society and make a difference in the lives of the little ones you'll be working with.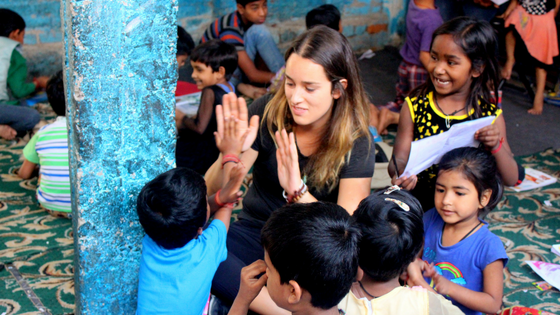 During your first week in the country, you'll get to volunteer in New Delhi at the Street Children Project. You'll be working in a school attended by the kids who belong to the underprivileged sections of society and are often not cared for by their parents/ family. You'll have to take informal classes, plan lessons through engaging activities, play with them, and shower them with adequate affection and care. Occasionally, you can take the kids out for an excursion to the zoo or museum (seek prior permission from the project coordinator). In a week's time, you'll get ample scope to bond with the kids and bring some positive changes in their lives. And in return, they'll give you unconditional love.
Once you finish your volunteer work in New Delhi, you'll be working for the Childcare Project in Palampur. Well, after the sweaty days in Delhi, you will experience the goodness of being in Palampur during the summers. You will mainly work with infants and toddlers in daycare centers, loving and caring for them. You can also get engaged in the renovation work of the premises, making the environment more lively for the little ones.
Being with these kids will enable you to be more humble & compassionate, teach you to find joy in the simple things of life, and be grateful for all that you have.
Travel & Make Amazing Memories: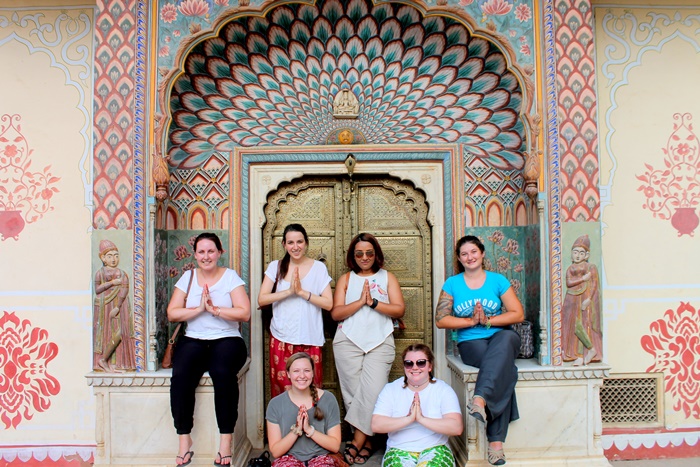 During your summer volunteering trip to India, you'll get ample scope to explore the northern part of the country.
As your journey will begin from the bustling capital of New Delhi, you'll get to explore the popular UNESCO Heritage Sites including the Humayun's Tomb, Red Fort, and Qutub Minar. Also, you'll get to visit famous temples – like the Lotus Temple and Akshardham. Walk down the markets of Janpath and Dilli Haat, and pick up amazing souvenirs to take back home. The maddening vibes of Delhi won't fail to charm you!
From Delhi, you'll be traveling to Palampur in the state of Himachal Pradesh. A picturesque town on the Himalayan foothills – Palampur redefines tranquility. Go out and explore the tea estates, walk down the local markets, visit the Tashi Jong monastery. During one of the weekends, you'll be traveling to the Buddhist town of Mcleodganj – the home for His Holiness The Dalai Lama. One of the highlights of this entire trip is the Trek to Triund. Hike up the mountain trails and let the views of the snow-capped peaks completely mesmerize you! You'll camp on the hilltop that night – and get a chance to gaze at the starlit sky, feeling the chills!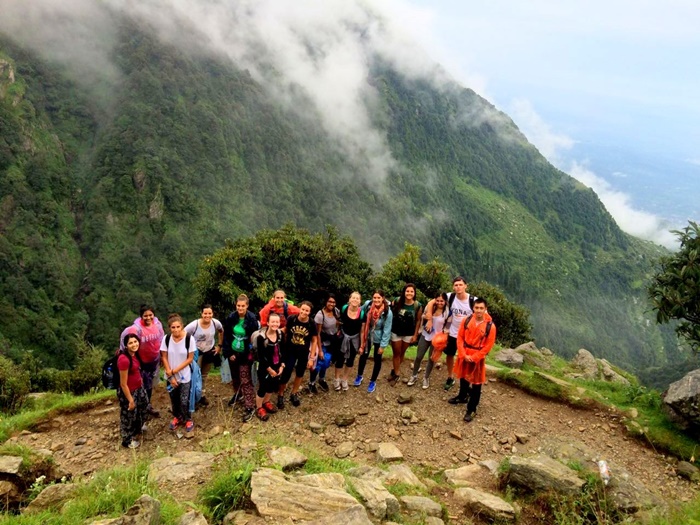 From Mcleodganj, you'll be heading straight to Amritsar – the holy city of the Sikhs, to witness the grandeur of the Golden Temple. Don't forget to try the delicious 'langar' food inside the temple complex. You'll also get to visit the Jallianwala Bagh and the Wagah Border (Indo-Pakistan) – our coordinator will be there to tell you all the details about the importance of these places.
No trip to India can ever be complete without visiting 'the monument of love' – Taj Mahal. And we shall take you there too! Witness the beauty of this white mausoleum built by Mughal Emperor Shah Jahan, in loving memory of his wife – Mumtaz. Only when you visit this historical monument, you'll get to know that this place is totally worth the hype.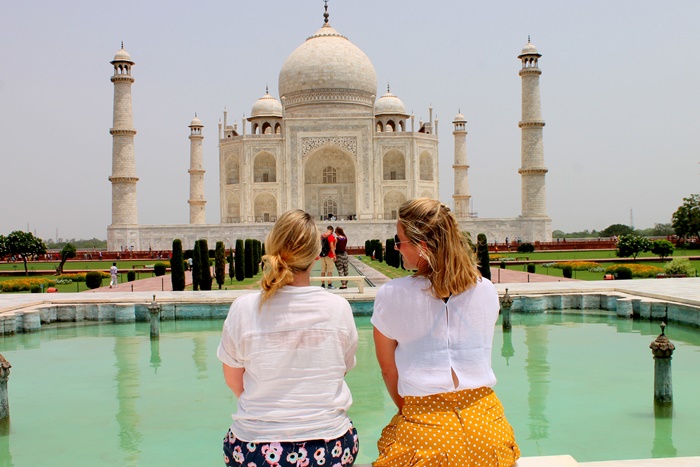 Apart from the Taj Mahal, you can visit the Agra Fort, Fatehpur Sikri, and other historical monuments built during the Mughal Era.
And finally, head towards Jaipur – the capital of the royal state of Rajasthan. You'll get to notice the stark difference in the Rajput architecture from that of the Mughals. Visit the Hawa Mahal, Amer Fort, and also enjoy a traditional Rajasthani dinner at Chokhi Dhani.
That's a lot of traveling – isn't it? Well, if you are seeking more, then we would suggest you opt for Goa Beach Week (available for an additional cost). Chill on the beaches of Goa and get tanned, dive into the Arabian Sea and explore the colonial architecture. Goa, popularly known as 'The Hippie Paradise of India', will not disappoint you at all.
If these haven't convinced you yet, then here are a few more things that you must know about the Summer Volunteering Program in India!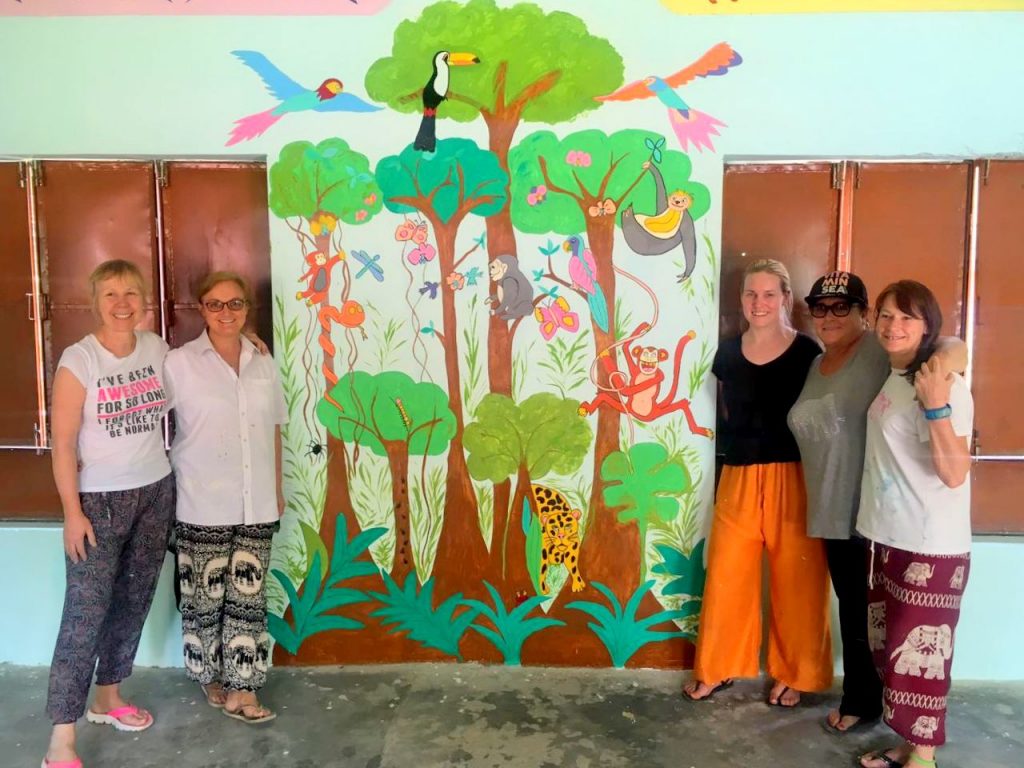 Make New Friends From Different Parts Of The World – Being a part of this program will enable you to meet like-minded travelers from other parts of the world, and widen your social network. You'll get to know what inspired them to travel and volunteer in India, as well as share your stories with them.
Gain A Certificate After Program Completion – No kidding there! We shall acknowledge your contribution and provide you with a Certificate once you wrap up your journey in India. This Certificate will add some brownie points to your Resume and immensely help you in the future.
Affordable & Meaningful – Volunteering India works in association with local organizations with the aim to provide support to underprivileged societies. Our Summer Project is extremely affordable and it includes everything from your Airport Pick-up, Orientation, Accommodations & Meals, Volunteering & Travel costs. We shall provide you with 24/7 in-country support so that you can have a hassle-free journey.
Over the last few years, we have hosted more than 5000 volunteers in India and everyone who joined us had an incredible experience.
If you also wish to spend your summer a little differently and inspire others, then come and join us. For more information, you can drop us a mail at [email protected] and follow us on Instagram to stay updated!
This Post Has Been Viewed 568 Times