India is not just the melting pot of cultures and the exotic paradise that you have come to know it as, but much more than that! From the great Himalayan ranges to the regal Bengal Tiger Reserves, from the majestic traces of Royalty in Rajasthan to the magnificent islands of Andaman and Nicobar, India will never cease to surprise the traveler in you.
India, definitely, is a country that's there on every traveler's bucket list. No matter whether you're a recent graduate setting out for your first solo trip abroad, or something seeking a break from the regular work-life and thinking of taking a gap year – India surely will be the best retreat for you, as well as a learning journey!
Perhaps you've read a lot about the diverse topography of the country, the rich heritage & history, the festivals and the cuisines & much more – but unless you step into India, you'll get to know the charm and aura that it holds! Now that you've been thinking of a gap year in India, make sure to travel and explore the country, while contributing meaningfully towards the developing society.
Scroll down to know why you should travel abroad and take a gap year in India!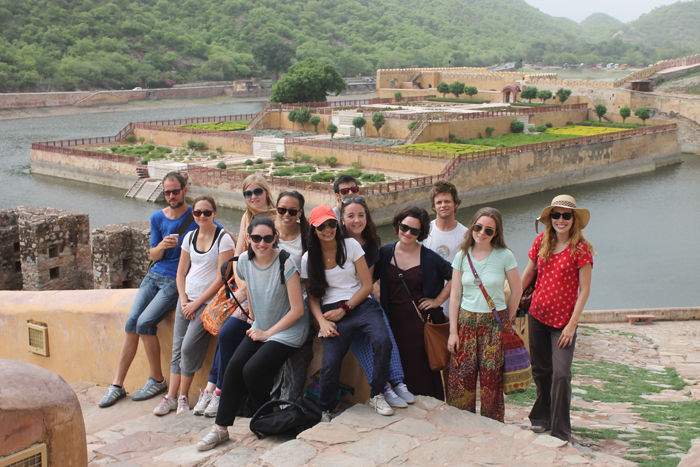 You'll get ample scope to volunteer and make a difference!
A gap year isn't just meant for traveling, but it's also the time when one gets a break from the regular schedules and can step out of the comfort zone, doing different things and exploring various avenues. The best way to utilize this break is by contributing to a social cause, which will make a difference in the lives of the underprivileged ones. Volunteering India has a plethora of affordable volunteer work opportunities for gap year travelers. If you are someone who loves to be around kids, then you can join the Street Children Volunteering Program in Delhi or the Teaching Program in Palampur. Those who are keen to help underprivileged women can be a part of the Women Empowerment Program. For medical & nursing students, we have a medical internship program in Delhi as well as a dental elective internship opportunity in Palampur. These are just a few – and there are many more in store! You can choose to spend a month or so, experiencing the goodness of volunteering and serve the people, unconditionally.
Gain first-hand work experience and boost your CV/ Resume.
Truly noted, a gap year trip abroad is a perfect learning journey that one can opt for! This is surely the best way to gain first-hand international work experience. Only only do you get to volunteer and know about the various social & economic problems that exist in a developing country like India, but you also get the chance to be associated with professionals, who can guide and teach you a lot about how to act in crucial circumstances and how to work with minimal resources. You'll also get to learn from your peers, who have also traveled across borders, just like you! No matter whether it's about keeping the tiny tots busy in some mindful activity or treating the patients at the emergency ward – you'll always be guided by our in-country team & professionals, and by the end of it, you'll surely find yourself as an enriched person. This endeavor will add some brownie points to your Resume, and you'll have a better chance of getting employed than your friends who don't have a similar worthy experience.
Get to know more about Indian history, culture & heritage!
One can never get over the historical richness that India beholds, and this is your chance to learn more about one of the earliest civilizations of the world! A country that has been ruled by the Maharajas, Mughals, British & other European colonial masters – each part of India has something unique to offer to the visitors. You'll get to witness the beauty of Mughal architecture in Delhi & Agra, the grandeur of Rajput art in Rajasthan, the influence of Sikhism in Punjab and Buddhism in the Himalayan region. Explore the churches in Goa as you soak in the Portuguese vibes, and walk around the French colony in Pondicherry! The cultural diversity in India will surely make you awestruck and if you are interested, you can also try and learn a few words in the regional languages while hopping from one state to another. Attend a basic Hindi course to get a grip over the language that is widely spoken, as that would also help you to communicate with the locals during your stay.
Explore the popular 'touristy' places in India as well as the hidden gems!
While the tourists make sure to tick off Taj Mahal from their bucket list, you'll get ample scope to explore the other UNESCO Heritage Sites and soak in their beauty & grandeur. And beyond those popular places, you'll also have the opportunity to walk down the local markets and 'hidden gems', which are known among the locals of the land! When you are in Delhi, make sure to explore the heritage sites like Humayun's Tomb, Jama Masjid, Red Fort & Qutub Minar, as well as hop in the markets of Connaught Place, Janpath, Sarojini Nagar, Dilli Haat, etc. Travel to Jaipur over the weekends, and soak in the royal vibes of Rajasthan as you see the forts & havelis. Of course, Taj Mahal is a must when in Agra, but don't miss out the Agra Fort & Fatehpur Sikri. If you choose to volunteer in Palampur, then you'll have the added advantage of living amidst the Himalayas and feel the chills, as you gaze at the snowcapped mountains. Walk through the tea gardens, and spend some quaint hours meditating in the monasteries, binge on some delicious momos and enjoy the beauty of this hill station!
Learn the art of 'Yoga' and connect to your inner soul.
Your gap year in India would be incomplete without mastering the art of yoga! Ah, well, no worries 'coz Volunteering India knows how important it is to keep the mind, body & soul in sink! Thus, we have curated an amazing Yoga & Volunteer Adventure Program in Palampur, being a part of which you'll get to learn the basics of yoga and connect to your inner soul. You'll be trained by a professional master, you'll explain you the tips and tricks of yoga, help you calm yourself down as you meditate and guide you through this journey! Apart from that, you can spend a few days in Rishikesh, known as the 'Yoga Capital of the World' and practice there to polish your skills. It's needless to say that your gap year experiences will impact your life greatly, and therefore, it's very important that you choose wisely and indulge in things that'll help you in life ahead.
Opportunity to meet some like-minded travelers & widen your social network!
As mentioned earlier, while volunteering in India during your gap year, you'll get to make friends out of strangers and work together for a common goal. It'll be interesting to spend time with people from different parts of the world, know more about their land & culture, and share your stories with each other. Not just that, but you'll also get to meet several people on the roads while traveling in India, and make amazing friends along the way. It is said that every person we meet, has something unique to add to our journey – so be open to meet & greet, you never know, you might just meet your favorite travel partner while you're here in India!
Now that you know the reasons why you should spend your gap year in India, take a quick look at these amazing photographs from different parts of the country, that'll surely mesmerize you and convince you to plan a trip, soon!
1. 

Follow me to Jodhpur
2. 

The singular beauty of Spiti valley
3. 

Shrouded in fog under the twilight sky, the changing colors of majestic Taj Mahal
4. 

No this isn't the Sahara Desert in Africa. This is the sprawling Thar Desert in Rajasthan India
5. 

You think only Salar de Uyuni in Bolivia is famous for amazing photography tricks? This is the Rann of Kutch in India, and visitors simply go gaga trying new tricks here!
6. 

Roads like these show the true meaning of – "It's not about the destination, It's about the journey itself".
7. 

Away from the hullabaloo of city life, a night sky dotted with stars. The sky in Sarchu truly looks like God's canvas every night!
8. 

The Darjeeling Himalayan Railway with the backdrop of snow-capped peaks of Kanchenjunga far behind!
9. 

Home to 50 tiger reserves, India has some amazing Tiger safari options, like….
10. 

The Ranthambore National Park. Oh, the look in those eyes, Killer!
11. 

This exotic location is one of the most popular beach destinations in India and definitely the best place for underwater activities like sea-walking, snorkeling, etc. Andaman and Nicobar is a grouping of 300 odd islands off the Indian Archipelago and we say give it a try this time rather than Goa!
12. 

The flea markets of India are some of the best places to get amazing Indian stuff without the pocket crunch!
13. 

India is truly a culture apart when it comes to food and with over 30 distinct regional cuisines owing to the amazing cultural diversity, you're sure to have a food journey like no other in India.
14. 

Daunting treks like the Frozen lake Chadar Trek will surely keep your thrill meters topped while exploring the Himalayan Mountain ranges.
15. 

Not the Amazon but the vast coastal forest of India, Sunderbans. It is a National Park, Biosphere Reserve and also one of the largest reserves of the Bengal Tiger and a boat safari in the Sundarbans is an adventure of a lifetime.
16. 

The historical ruins and the periodical architectures left behind by the golden age of India, like Hampi (in the picture) will surely keep you engrossed!
17. 

Home to the largest bird sculpture in the world, the Jatayu Nature Park in Kerala has rapidly become a must-see destination when traveling in India.
18. 

And what is a trip to India without a visit to the Royal Forts in Rajasthan and experiencing the fineries of Rajput Royalties?
19. 

The holy city of Varanasi on the banks of Ganges is one of the most sacred Hindu Pilgrimage and a soulful surprise that is truly fascinating.
20. 

The Gurudongmar Lake in the Northeast Of India truly looks like something right out of a travel postcard that is sure to make you go gaga!
With larger than life scenic landscapes and natural wonders, India also holds a powerhouse of cultural extravaganza which further adds to its enchantments. This is nothing but just the tip of the iceberg, and once you delve deeper down, you'll find it hard to leave any of these amazing experiences off your list!
Start planning your gap year trip soon and write to us at [email protected] to know more about the programs & opportunities that we have in store for you!
This Post Has Been Viewed 1,352 Times