When we hear of 'Eat. Pray. Love', the first thing that comes to mind is the Hollywood blockbuster narrating the story of a woman's quest for self-discovery. No, we aren't really talking about the Julia Robert's movie here. Instead, we would rather like to take you for a magical journey that you can experience if you travel to India for volunteering.
A volunteer trip is not merely a random journey – but an immensely influential move that one takes, in order to create a larger impact to the society. But above all, it's a journey that essentially opens several doors for the one who undertakes it.
Let's take a look at how you can 'Eat. Pray. Love' while volunteering in India.
Eat the amazingly delicious food that has a perfect blend of spices.
India is a paradise for food lovers – from thick spicy curries to tandoori grilled meat, from crispy dosas to filling samosas, from butter-dipping paranthas to a variety of seafood dishes – India has so much to offer that one will surely get a gastronomic attack once in the country!
While volunteering in Delhi, one can't just afford to miss the finger-licking street food. Be it the chaats or the rolls, pakodas or kulfi – you got to try them all! (Keep an antacid tablet handy!)
Aloo Tikki – One of the most popular street foods, Aloo Tikkis are basically crispy potato cutlets that are served with curd, chutneys and masalas, giving it a delicious taste. Crunchy from outside, tikkis are extremely soft and tender inside – and are a bit too spicy! A plate of aloo tikki will come for 60 INR, and it'll absolutely satiate your taste buds.
Samosas – How can one miss having samosas while in India? A spicy and crunchy Indian snack, samosas have a coating of maida (white flour) with a stuffing of potatoes, onions, cauliflowers, peas that are all pre-cooked with spices like turmeric, chili powder, fennel powder, garam masala etc. To add a little more variation, you can try the samosa chaat, in which they add curd and extra spices to the fried stuff!
Paranthas – A variety of general flatbreads, paranthas are mostly fried in oil or ghee and have different stuffings. If you are in Delhi, you have to visit the Paranthe Wali Gali in Chandni Chowk where you will get everything from Aloo Paranthas (potato stuffed) to paneer paranthas (cottage cheese stuffed) as well as paranthas stuffed with mutton keema!
Momos – While Delhi has mostly oily, spicy and fried food to offer, the hilly areas of India will offer you a completely different palate. If you choose to volunteer in Palampur, then one thing you can't afford to miss are the yummy momos. This is a Tibetan cuisine, but extremely popular in the Northern part of India. A variety of dumplings, momos have a coating of flour and stuffed with meat and veggies. You can try the steamed as well as the fried momos – both are equally delicious.
Malabar Prawn Curry – Of course, you have to try the curries in India – and if you are volunteering in Kerala, you'll get to taste the absolutely brilliant seafood curries that are prepared with coconut milk, mustard, and chilies. The Western Coast of India has abundant seafood options to offer the food lovers, and the Prawn Curry is a signature dish that you can't afford to miss.
Pray to soothe your senses and sync your body, mind, and soul.
The place where yoga originated from and the spiritual home of the world's most famous meditation traditions, India offers unrivaled opportunities for spiritual upliftment.
Keeping your religious faiths and beliefs aside, indulge in praying to cleanse yourself and get a taste of eternal peace. India is considered to be the hub for meditation and yoga – and since ages, people from all across the world traveled to India to learn these two forms of art. There are several yoga and meditation retreat centers all across the country, but the best option would be to travel to Rishikesh and spend a weekend on the banks of the Ganges, during your volunteering journey in India.
Love unconditionally and spread warmth in the lives of others.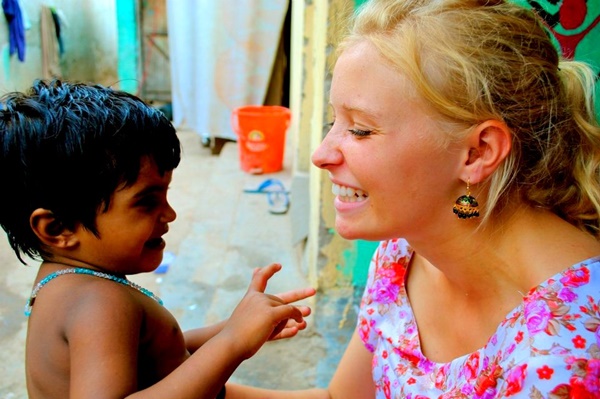 This is the main reason why you've sailed across the seas and oceans – to spread love, warmth, smiles and laughter among those who are less privileged than many of us. India, being a developing country, has a huge population of people who are still struggling to live a normal life and they are often devoid of the basic necessities.
The projects in India are structured in a way that you can spend quality time at the sites with the host community and offer the best you can. No matter which project you have chosen, the one thing that you'll feel is unconditional love without any expectation, from the natives.
We have had volunteers in the past who has extremely touching experiences and they all weaved bonds of love that are hard to be defined.
A journey to India would definitely be magical and one of the most unforgettable experiences ever. And unlike any other expensive luxury holiday, a volunteering vacation would culminate the best of everything that's there for you to relish – the exotic flavors, the peace of mind and the priceless moments of love.
If you are looking for more information about volunteering in India, get in touch with us at [email protected]
This Post Has Been Viewed 468 Times