Volunteer Programs in India, Internships in India & Summer Volunteering 2017
Volunteering India provides safe, affordable and meaningful volunteer programs in India. We offer vast variety of programs,
cultural exchange programs
, internships, gap year programs in India, where volunteers can choose to work in New Delhi, Palampur/Dharamsala and South India including Bangalore, Mysore and more. Our choice of programs include
working with Orphans
,
Women Empowerment Programs
, Health/HIV programs,
Teaching English
,
Summer Volunteer Programs
,
Street Children programs
and more. You can join our programs in India, as an individual, as a group or even choose to volunteer in India with your family.
It is hard to find a more affordable, trusted and reliable, quality volunteer program in India, which is trusted by over 4000 past participants. You can read our
reviews and testimonials
.
We provide volunteer work, gap year & Internships in India to international students, gap year travelers and career breakers from around the world to come and help in India. Our coordinators have more than 10 years of experience successfully hosting more than 4000 foreign volunteers since 2004. We work closely with local NGOs in India and partner with many international organizations providing volunteers meaningful work at the grassroots level where it is much needed.
Volunteering India is currently accepting
applications for 2017
volunteer programs in India.
Featured Programs
Top Programs
WHAT OUR VOLUNTEERS SAY!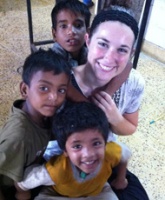 I found the packet very helpful. It prepared me for my stay here. I really enjoyed my placement. Being with the children was wonderful. The experience made a huge impact on my life and I hope I made an impact on them as well. Everything was very nice. I very much enjoyed the meals. They were delicio ...
Read more
Sarah Dufour - USA
Read All Reviews
Why Volunteer in India?
India is one of the fastest growing and developing nations in the world today and still poverty and illiteracy remain key issues within India. Although larger cities like Delhi, Mumbai, Bangalore, Hyderabad, Chennai and more have developed quite a lot over the last 10 years, they along with all other parts of India are still suffering from poverty. Volunteering India works with local communities and NGO's in India and help bring a change to the lives of the downtrodden. Volunteers can make a huge difference in the lives of street children in places like Delhi, work with local NGO's supporting women empowerment, teach English at local community schools and also help in hospitals and clinics to bring a change in the lives of local people.

Volunteering India has been working with local NGO's in India since 2004 and has been sending a steady number of volunteers to these centers. This is really important and now our international volunteers coming to India play a big role in running of these NGO's, they support both financially and personally to help the local communities.

India is a also a dream destination for any traveler, it offers a diverse culture, history and heritage like no other country in the world. India is also the perfect destination to volunteer abroad during your gap year. Volunteering India provides great gap year programs in India. You will be surprised at the amount if things to see and do in India. It is also host to many UNESCO World heritage sites, including the world famous Taj Mahal. Volunteers have a lot to do and experience the life in India, since you would have your weekends free, you can go on and explore India, see Taj Mahal, Golden Temple, Mysore Palace, Manali, Dharamshala, Mc Leodganj and many more. Our local coordinators would be glad to assist you in planning your weekend travel while you are in India.