Like many others who traveled to India in 2016 with the hope of making a difference to someone else's life, Julia, (18-year-old girl from Rotterdam) joined the Teaching Program in New Delhi. Her vibrancy and love added warmth in the lives of the children who attended her class in the slum school.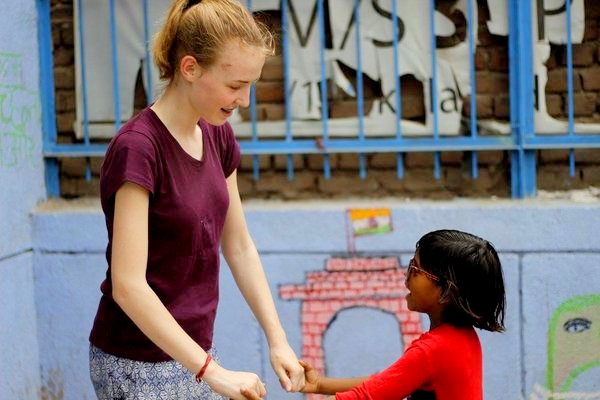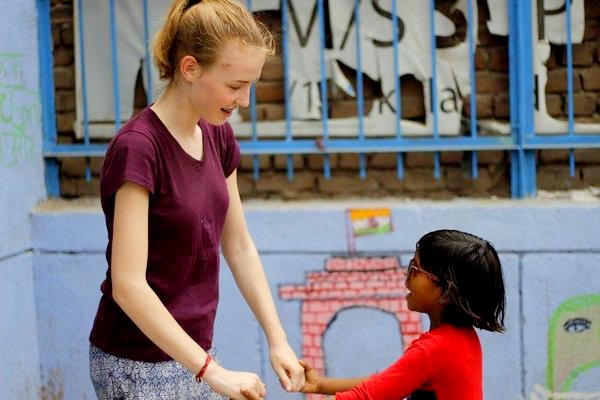 After she completed her project, and returned back to her country, we had a opportunity to know about her experience. And here's what Julia had to say…
What did you choose to volunteer?
I always wanted to do volunteering work in slums so when I heard about this program, I knew I definitely wanted to go! I saved money for 2 years and it was really worth it.
When we arrived in Delhi, the staff was waiting for us and they took us to the house where we stayed. The staff was extremely nice and friendly. The food we got every day was very tasty.
What kind of work did you get to do?
We went to a school in a slum. We went there by metro and then walked a bit. Shankar used to walk with us and I really liked to talk with him about his life and family. In the school, we did some painting and we taught the children English and maths. Also, we played a lot with the children.
I loved it to be at the school and every day, when we had to leave, I felt really sad because I wanted to stay with the children. The children are so wonderful – they have nothing but are so happy with every little thing they've got. The energy I got from the children was really special. I miss the children now and I really want to go back to play and dance with them more!
Did you get to explore the destination you traveled to?
We went to visit the Lotus Temple, Akshardham Temple, Qutub Minar and to the old part of Delhi, famously known as Chandni Chowk. It was really great exploring the city and getting to see so many different religions having their own institutions. We also got to explore few markets and could collect lots of souvenirs.
Did your trip help you to learn something new?
This trip was really impressive because everything in Delhi was so different and I never saw something like this before. I think this was a great opportunity to enlarge my view of the world and think about the big differences between my life and the life of the people who live in other places in the world. I really became aware of doing something I loved to do made so many people happy. I will never forget this.
Do you think of any improvement in the Program schedule?
I can't think of any! Everything was very well organized.
If you also want to have an experience like that of Julia's, join volunteering in India and share some love with the unprivileged kids in India, you can also in touch with us at [email protected]
This Post Has Been Viewed 411 Times