India's always been a one-stop destination for cultural confluence and thus have been a bucket-list must for wandering souls all around the world. From being the home of Yoga to its sprawling cultural landmarks found all across the country, everything of Incredible India comes with a footnote with a long legacy of enlightening history.
But a lesser known fact to people coming into the country is that India has also joined in the running for becoming an adventure friendly country and I would say it's come quite far along.
India has come to be the home for adventure junkies from every walk of life traveling to fill up on their share of daring experiences. Here we have listed some of the best adventure activities in India you can enjoy during your trip:
Mountain Biking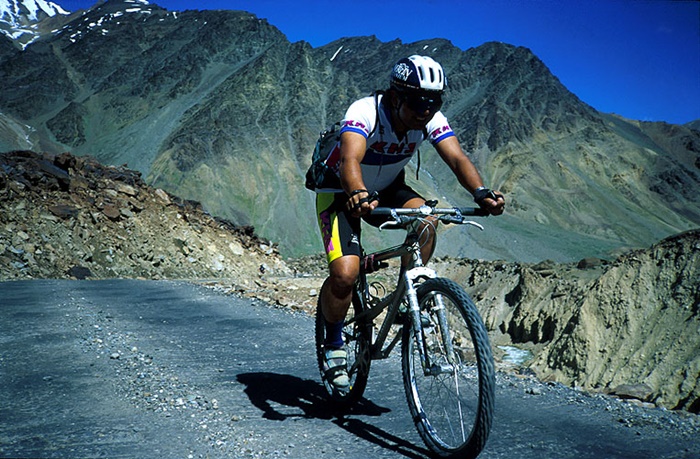 If you are all about extreme sports and if you are looking an "off the beaten path" adventure then mountain biking is the one for you. Rough and unpaved trails, treading treacherous terrains is all about the rush of mountain biking. And due to India's diversifying mountainous terrains, it has become a mountain biking hot spot.
It rose to so much fame that there's even an 11 day Himalayan Mountain Biking Race during the months of September/October covering an epic trail through the beauteous mountains of The Himalayas spread over 750 Km. There are many such races which attract competitors from all over the world. But it should also be kept in mind that this sport needs practice and precision otherwise it can prove to be hazardous or even fatal.
If you are an amateur it is advised to start with paved and cemented trails and master it. You can bring your own bikes if you want but I would suggest you avoid the add-on air expense and opt for a rental available near all mountain biking trails.
Locations– Across most of the Himalayan trails and also in the mountainous regions of the Southern state Kerala. The lofty mountains of the Northeast region around Sikkim have also got some great trails for mountain biking.
Parasailing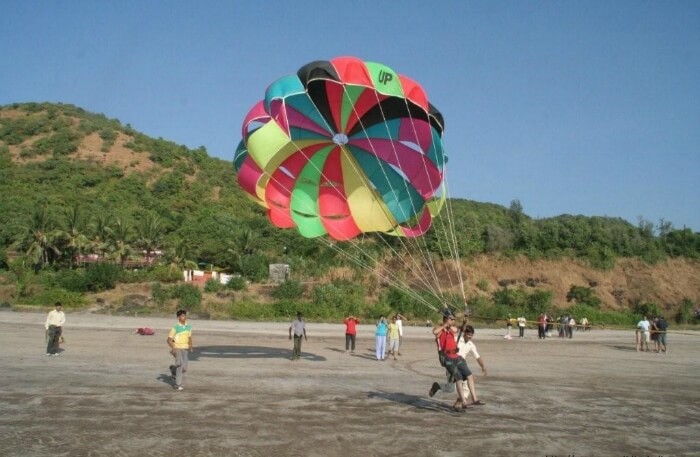 Take a flight from your worries on the ground and sail above the beautiful beaches and seas of India. When it comes to parasailing it has 4 different categories varying on their launch pads like from the Beach, a Platform, from land or from a Winch Boat, each having its own different thrill.
The most popular ones in India are from the Beach and from the launching from a Winch Boat mid water. If you are more into the mountain scene then there are parasailing options in the mountainous regions as well. You can opt for a single ride or go for a tandem one. Don't sweat the safety instructions because you will be well guided and informed by the organizers beforehand.
Locations– Parasailing can be found in most parts of the country to speak the truth. But if you want to soar really high and get a taste of thrill high above then these destinations are handpicked. Kerala and Goa are two of the most famous parasailing destinations in India, having both beach and boat landing. Maharashtra is yet another popular location for water parasailing in India. There are also some great parasailing destinations amongst the mountains in Himalayas and Uttarakhand, sailing over the snow clad mountains and sprawling greens.
Paragliding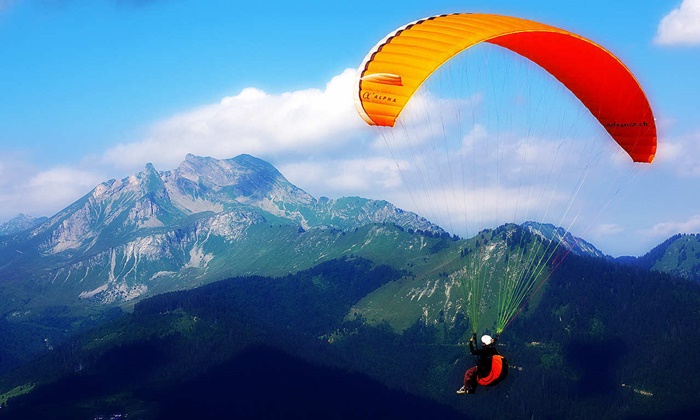 Taming the winds and soaring high up in the sky has never been more thrilling. Paragliding is all about you, your thoughts and the cool breeze on your face, and don't forget the controls!
Flying 3000 or 4000 meters above ground can be a daunting task and an equally pleasurable experience as well. Similarly like parasailing, you have the option of solo and tandem ride. In the case of paragliding, tandem ride with a professional is always advised for your own safety unless you are a pro in paragliding.
And with Volunteering India's adventure programs you get the opportunity to explore and work in India and experience its many adventure activities, one of which is Paragliding. With projects based in the Himalayan lap in the town of Palampur, simply take off for a weekend and enjoy the clear blue skies and fly with the birds, leaving your worries thousands of meters away.
Locations– Bir Billing in Himachal Pradesh provides one of the best paragliding experience in India. Tracing back to its origin in India way back in the 90's, over the course of 2 decades it has come to be a very common adventure sport and can be found in hill stations and mountain regions across the country. Here I will list the names of a few famous ones like Sikkim, Uttarakhand, Shillong (Meghalaya) and across the beautiful Southern Aravalli range in Gujarat.
Skydiving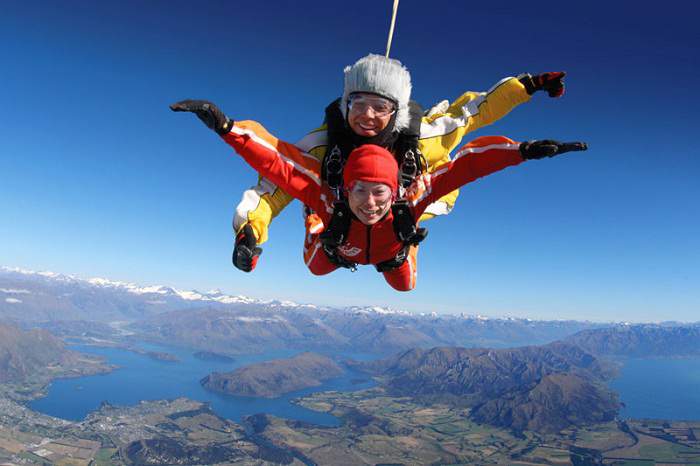 To float above 3000 meters above the ground and to be in a free fall from over 10000 ft up in the air skydiving is the ultimate the electrifying experience when it comes to extreme air sports. Have a friend who's scared of heights? Plan your adventure of a lifetime in India and help him overcome his fears. He'll either thank you or kill you once he touches down on the ground! Just kidding.
Sky diving can be one of the most rewarding experience to have with your group or even solo. There are different safety measures and accordingly different types of skydiving. A tandem jump with professionals is always good as many people get skittish and fail to calm their nerves. Another safer option is the static line jump where you are tethered to the airplane with a line and the parachute auto-inflates after a particular free fall period. This lets you experience the rush all by yourself without getting jumpy and worrying about parachute controls and other important stuff.
Now for the thrill seekers who are never satisfied and are always left wanting for more, the accelerated jump is your calling. No professional helper, no tether, this is the real deal when it comes to skydiving. Some basic training is necessary in all of these cases but for the accelerated jump, there is a special course and practice sessions to prepare you best. Do research on the price according to locations and plan ahead for your trip to India because skydiving being the new kid on the block is still quite fancy and can mean some hefty bucks.
Locations– Mysore has been one of the choice locations for attempting this great feat. Other than that you can find skydiving opportunities in India across places like Deesa, Dhana, Pondicherry or Aamby Valley near Maharashtra.
Bungee Jumping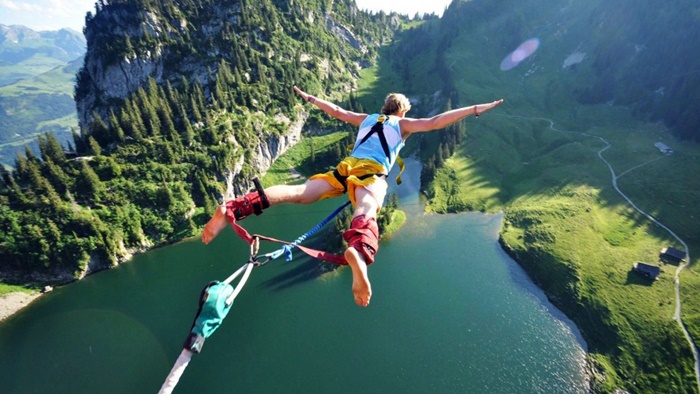 A personal favorite and yet another not for the faint-hearted, bungee jumping is every thrill seeker's dream come true. With the frontier for adventure tourism in India expanding Bungee Jumping's is also gaining momentum. With a humble start, bungee jumping kicked off in many cities with a nominal height of 25 meters and people started craving for more India started giving more. Now the highest jump point is 83 meters where you'll be jumping in from the platform on a cantilever bridge built on top of a rocky cliff.
Locations– As far as Bungee goes Rishikesh (Uttarakhand) is the best place with the highest jump point (83 meters). The camp has their very own trained bungee professional as well. Search for Bungee jumping in Rishikesh and you'll find location and camp details. It is well advised to book your spot ahead of your visit or rely on websites or organizations that can give you best packages in India. You'll also find a lot of other activities in these camps like Giant Swing, and Asia's largest Flying Fox stretching across 1 Km.
River Rafting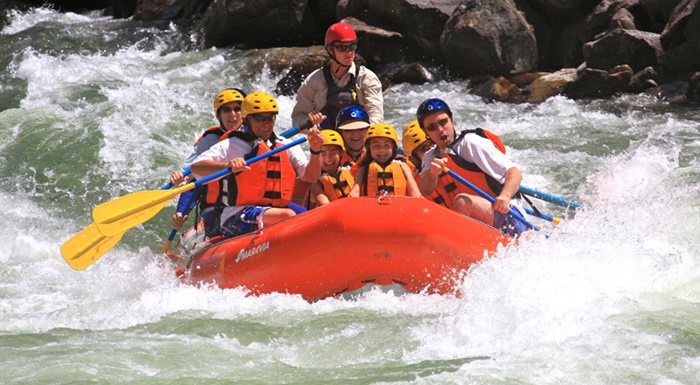 Rafting the rapids and battling the tumultuous mountain rivers is a perilous thrill that many seek. The thrill and spills with picturesque views against the backdrop of roaring rivers are the ultimate combinations of exhilaration and excitement. With the many branches of the Holy Ganges spread all over the country India is the perfect destination for Kayaking or even braving the rapids.
Location– The Himalayan region is a potent location with several River Camps present along the banks of the mountain rivers, It includes mainly Ladakh, Himachal Pradesh, Uttarakhand, and Sikkim. There are also some river rafting opportunities in Goa, Karnataka also. But nothing matches the thrill of the Himalayan Rapids and exquisite natural beauty of its tall ranges.
Flyboarding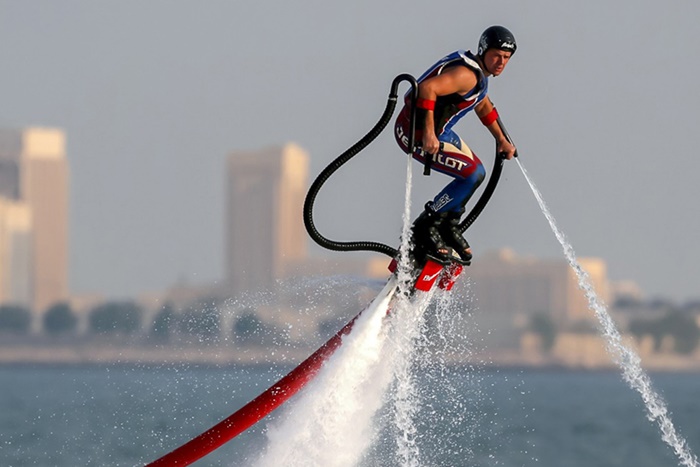 Shocked huh? Yes, India's got its very own flyboarding range in Goa. Sink into the depths of the ocean and rise up and out like a flying superhero, flyboarding is the ultimate thrill for water lovers. Don't get hasty now, you need to be good in using your feet and legs to maneuver this jetski-jetpack combo and tread the water like a pro. Also, there should not be any oversight on the fact that you need to be a good swimmer as well. Other than that just some practice and you're there on your flyboard showing off your mad water jumping skills!
Location– If the amazing beaches and parties of Goa were not enough for you, then Flyboarding might be. Goa's Baina Beach is the best place to experience the thrill of flyboarding.
Scuba Diving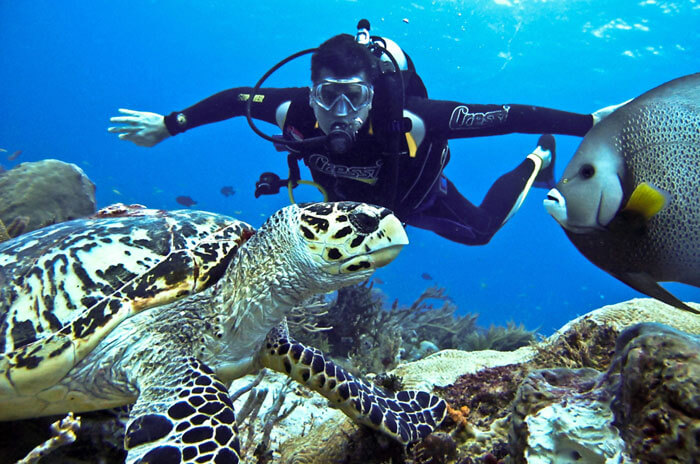 Explore the underwater world and its tranquility. India's underwater ecosystem is a magnificent sight to behold and to experience it closely with the creatures have the makings of a worthy travel experience abroad. Scuba instructions are provided priorly by certified instructors. Worry not, you can still explore the underworld beauty even if you are not a swimmer. There are special provisions for non-swimmers when it comes to scuba diving.
Location– The Islandic states of Andaman and Nicobar are the best places to unravel the mysteries and beauties of the deep water. Swim with colorful sea creatures or enjoy the ecstatic corals at Seduction Point. There's a volcanic point called K-Rock near Neil's Island where you can wander off in the clear pristine waters. Some other options for Scuba diving are Lakshadweep Islands, Pondicherry.
Heli-Skiing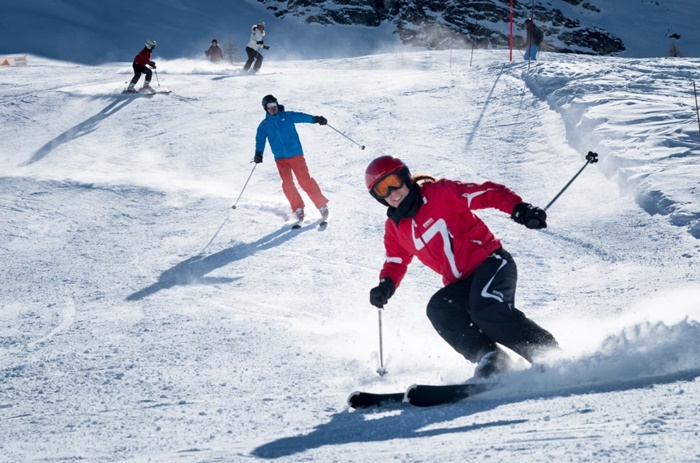 Do you love the feeling when snow thrashes back at you ricocheting from your ski blades? If it's a Yes from you, then you are definitely a skier. Sashay down the snowy slopes of Himalayas, but wait, first perfect your landing from a Helicopter with you skis on!
Heli-skiing is as extreme as sports go. With a chopper taking you high above the accessible slopes in the Himalayan range for skiing, the world is your oyster. As much as a thrill it is, it is also quite a pricey affair. These tours operate around the months of January-April and can easily go down as one of the best adventure conquests of your life!
Location– Kashmir, also known as the Switzerland of India has some of the best sloped to ski on. Heli skiing can also be done from Manali in Himachal Pradesh.
Auto-Rickshaw Challenge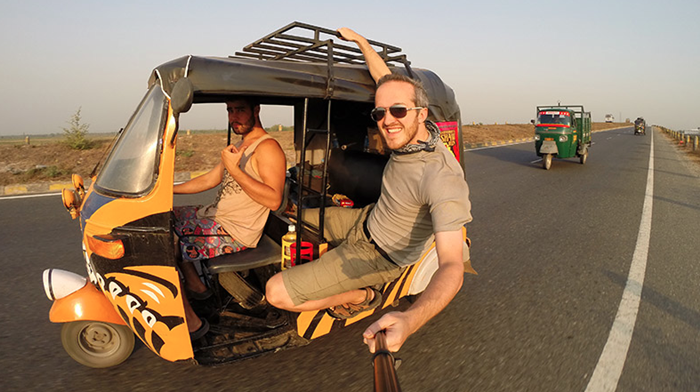 In the spirit of sharing and adventure and also for creating responsible travelers I present the last activity, The Auto Rickshaw challenge. Starting in 2006 it gained some serious impetus in the field of international tourism. It attracts many every year to embark on a tuk-tuk ride across the southern states of India. It is the best way to experience the Incredible India and its extraordinary countryside while doing some good along the way. Have your team ready (3 people) for a racing experience like never before. There are around 5 such crazy trips around the year which are South-India's own style of saying, hey we are in the adventure race too!
Locations– The original race started from Chennai and went up till Kanyakumari. Now there are around 5 trips every year covering the states of Tamil Nadu, Karnataka, Goa, and Maharashtra. So are you up for the challenge?
If you have been looking forward to explore India and have also been wanting to plan an adventure trip but were torn between two, you need not be. Just put them together, shake them up, blend it and make it into the ultimate adventure travel TODAY. If you have any queries shoot a mail to us at [email protected]. We'd be happy to help you out!
This Post Has Been Viewed 1,523 Times